Responsible Serving of Alcohol Training - Online!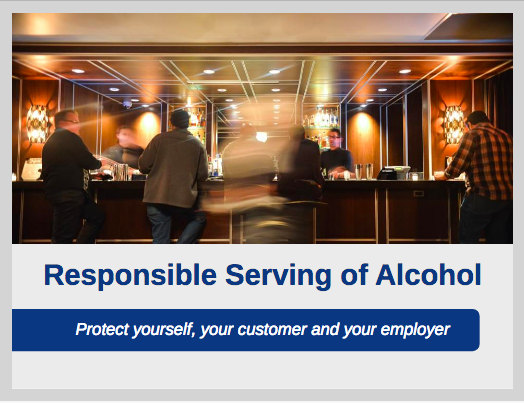 Protect your brand with responsible serving of alcohol
Get your Certificate in Responsible Serving of Alcohol today! with our online training.

Responsible Serving of Alcohol is critical training for all bar staff. This course explains the responsibility of Bar staff to maintain a safe environment and avoid seving alcohol to underage people. It teaches you about the law and how it applies to serving alcohol. The course also introduces techniques for handling intoxicated people and guidelines on how to maintain control of the bar area..

This training is suitable for all bar staff.
Existing customer >> Log in
Start your training today from your PC or MAC. During your Responsible Serving of Alcohol training you will learn:


Not to serve an underage person
Not to serve alcohol to a person who is intoxicated
Recognize the signs of intoxication
Maintain order within the premises
Control of the environment and not allow harmful activities
The law and how it applies to serving alcohol
At the end of the course there is an assessment. You will be awarded your certificate after achieving 70% in this exam.
Note: you will have 5 weeks to complete the course from the day of purchase.
After this time, your subscription will run out and you will need to re-purchase the course.